Antalya is a fabulous city that can be found on the western coastline of Turkey.  Many days can be spent exploring this carefully preserved city, while others can be spent out on the cliffs, as you hike along from one waterfall to the next.
However, what happens if you are not a cliff type of person, and you still want to spend time in Antalya?  Well, thankfully, you have a phenomenal option that includes spending a lot of time on Lara Beach!
Where is Lara Beach?
Lara Beach Antalya can be found right alongside the Mediterranean Sea, on the Riviera coast of Turkey.  You can easily reach this beach after a ten-minute drive from the Antalya International Airport.  That means that you can fly into this part of Turkey in a matter of hours from anywhere in the Middle East, Europe, or Asia, and have a fantastic beach vacation at any time of the year!

Reasons to Choose to Spend Time at Lara Beach
There are many different reasons why you should choose to spend time at Lara Beach Antalya.  The first is the fact that this beach is eight kilometers in length, making it one of the longest beaches in the entire country.  The sand is super soft, but you will encounter a few pebbles in some areas as you are walking along the shoreline.
You must not discount the multiple hotels and seaside resorts that line the sandy shores of Lara Beach Antalya, either.  While you can choose to stay in one of the all-inclusive 5-star luxury resorts, you can also select one of the theme hotels, design hotels, and even one of the club hotels. Check out Limak Lara Deluxe Hotel & Resort for an unforgettable vacation!

Things to Do in Lara Beach
Plenty of adventures are waiting for you at Lara Beach Antalya!  All you need to do is determine which ones should be at the top of your list and which ones may need to wait for another visit.
This beach area is perfect for watersports, and you will find yourself doing everything from windsurfing, jet skiing, and parasailing.  However, if you get tired of the water, or want to see the beach from a different perspective, you can always take a catamaran out to do a little exploring.
Everyone needs a break from the sun and the sand, as well as the water when they are on vacation.  When you realize that you need something different, you may want to consider visiting the Antalya Bazaar.  This destination will change how you look at shopping in the future because it is quite unique.
The stalls are filled with everything from fresh foods and different spices to souvenirs and clothing items.  As you wander around with the locals and other tourists, you will quickly learn that you must barter for the things that you want, so you don't need to pay more than you should.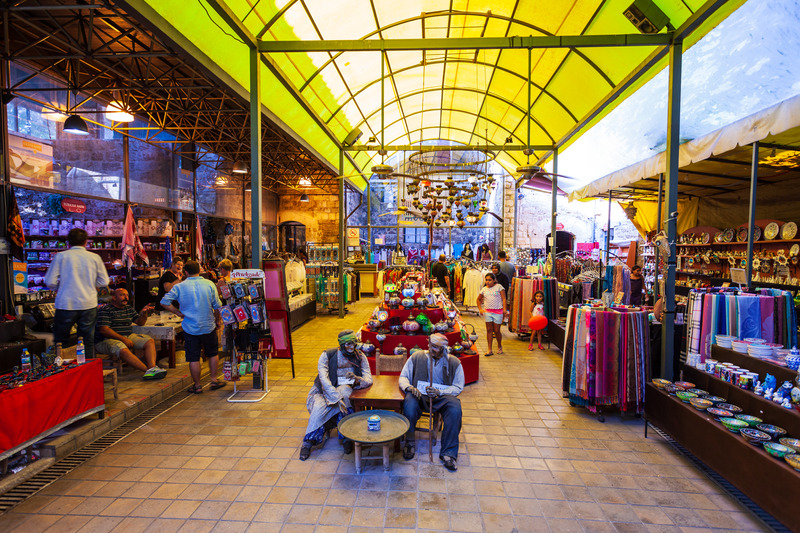 Watch and listen to the locals for a little while before giving bartering a try. Of course, it will take you some time to hone your skills, but by the end of your time at the Antalya Bazaar, you should be able to make deals with the best of them!
If you cannot find what you need at the Antalya Bazaar, then you can venture out a little further from Lara Beach to Lara-Kundu.  It is there that you can find brand-name items, as well as many of the more traditional souvenirs that you may be looking for.
At the end of the day, you might be thinking that you are going out of town for clubbing.  But the hotels along Lara Beach Antalya have made it easy for you to stay in and still have a wonderful time.  You can choose which shows to see which dance clubs to visit, and what trivia nights to attend.  Add in the plethora of bars, and you will find that the drinks never stop flowing, and the fun never stops under the nighttime sky.

Why is it Unique?
All three of these beaches are considered Blue Flag beaches, which is a difficult requirement to achieve.  To get a Blue Flag, a beach must meet the criteria for safety, accessibility, environmental standards, and even educational standards. Once a beach makes it to the list, there is no guarantee that it will make it again the following year.
You are going to love taking it easy at Lara Beach Antalya if you don't like hiking to the top of cliffs or any of that type of activity!  So, plan your trip to Antalya today and start having a vacation of a lifetime. You can check out monthly Antalya weather & climate before booking your holiday!
While we recommend that you spend the right amount of your time at Lara Beach Antalya, you should also spend a few hours at the other two beaches that were mentioned.  The reason for this is that you will see more of the locals on both Konyaaltı and Mermerli beaches.  Those locals are always a wealth of information when it comes to what else you should do while visiting this part of the country.
Other Beaches Located in Antalya City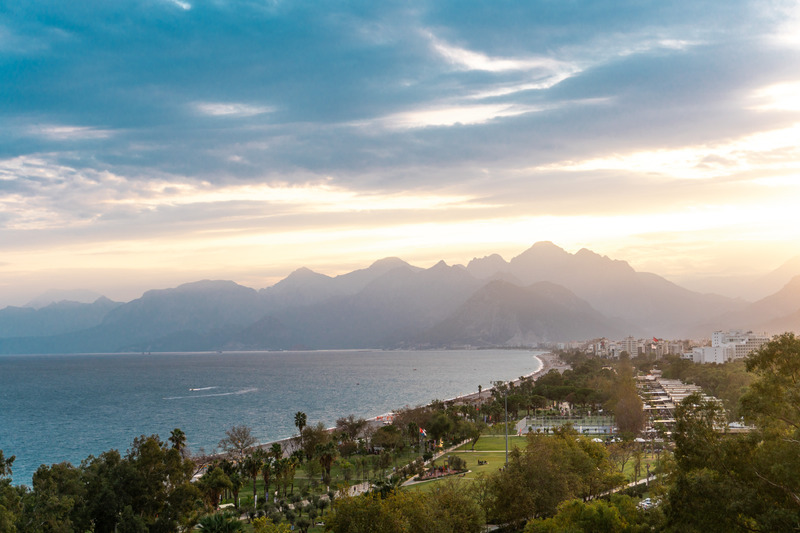 Konyaaltı Beach
While Lara Beach is one of the main beaches in Antalya, Konyaaltı Beach is the other.  This incredible beach is located towards the western side of the city next to the Taurus Mountains.  When you are not out on this stone beach, you may find yourself wandering through the nearby beach park. There are nearly 100 bars or cafés to spending time there.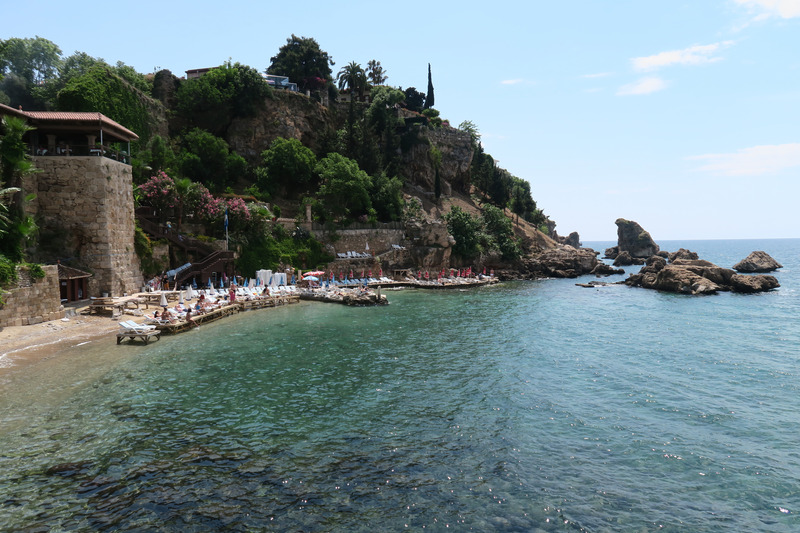 Mermerli Beach (The beach in Oldtown, Antalya)
Mermerli Beach is one of the smaller beaches in Antalya. That certainly doesn't mean that you will not have a great time when you are there.  You will find this beach next to Kaleiçi Harbor, but you must look behind the cliff to see it.  This isolated beach, keep the crowds away. That's because not many people want to take the time to get there. If you're going to find out more about Kaleiçi, check this out:  Antalya Old Town: Is it worth a visit?